Tweet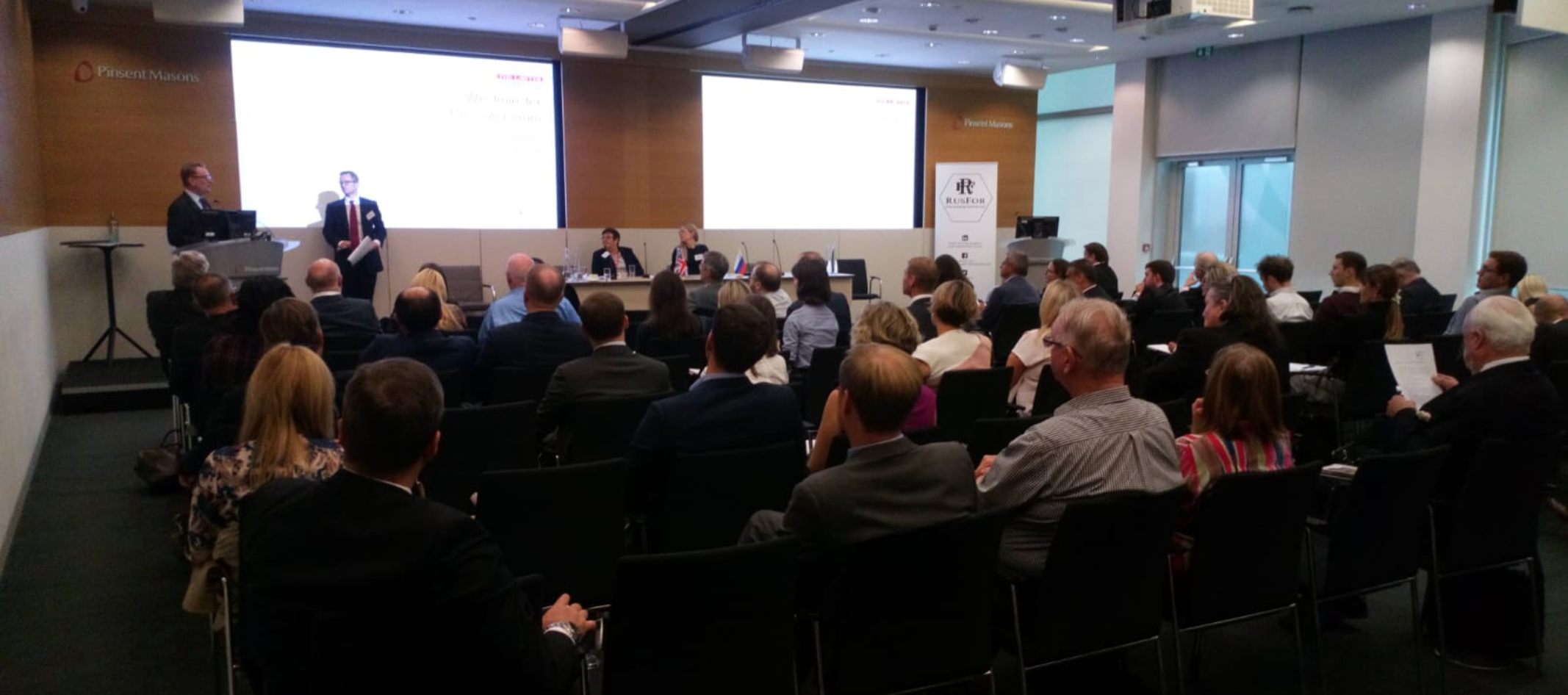 We are delighted to invite you to the conference from the Westminster Russia Forum in London.
About the Conference: Building upon the incredible success of our 2018 event we are delighted to announce the third annual UK-European Russia Relations Conference.
Covering the legal, political, cultural and commercial – trade relationships between Russia and her Western partner, we will be building upon the success of our 2018 conference which attracted some 200 attendees!
We will be doing something a little differently this year – working with sister organisations in Europe we will be exploring not only the UK-Russia relationship in detail but also examining areas of European cooperation. Some highlights include:
· Expanded content and presentations from Europe, Russia and the UK
· Extended networking opportunities
· Evening entertainment and reception
· On the day matchmaking
· Awards ceremony
· Post event report and presentations
In memory of our long-standing committee member who sadly passed away last year, we will be awarding the Nigel Sussman Award and pin to those who have helped promote SME activity. We are also working with the National Fund for Social Recognition to identify and award UK citizens high-civic awards in recognition of their support for improving ties
International Panel Made up of Speakers from:
Confirmed Speakers Include:
Andrej Hunko, Member of the Bundestag & Parliamentary Assembly of the Council of Europe (PACE)
The Viscount Waverley, Member of the House of Lords & Vice Chair APPG for Russia
Olga Podberezkina, Deputy's Assistant of Russian State Duma / CEO of Ranking Agency Viperson & Representative of MGIMO
David Grigauri, Director & Partner, Gryphon Emerging Markets
Konstantin Belyakov, Vice-Rector of Tomsk State University & Deputy of Tomsk Duma
Marco Henrichs, German Extreme Swimmer & Representative of the Volga Swimming League in the Russian Federation
Martin Hoffman, Managing Director, Deutsch Russisches Forum & MD Petersburg Forum
Alexander Rumyantsev, Deputy Trade Commissioner of the Russian Federation to the United Kingdom
David Burnside, Chairperson, New Century Media
Helge Massanek, Lawyer & Head of Tax Consultancy in Russia, Rödl & Partners Ben Wells, Associate, Pinsent Masons
Anna Jenner, Visit Russia
Katya Rogatchevskaia, British Library – 100 Year Centenary of the Russian Revolution
Olga Balakleets, President of Ensemble Productions
David Cant, Managing Director, Albion Overseas Ltd
Anton Chesnokov, Head of UK Office, Rossotrudnichestvo
John Bonar, Director, Vostok Projects Vladivostok
Mirjam Zwingli, European Representative – Westminster Russia Forum
Dr. Karin von Bismarck, – CEO of Wirtschaftsclub Russland (per video message)
Simone Vittorio Stasi, Director, SGS Partners
Nicholas Cobb, Chair, Westminster Russia Forum / Associate, Hollbeach Investment Solutions
Subject to Final Confirmation Panellists(*)
CONFERENCE AGENDA
09.00 – 10.00 Delegate Registration & Networking Coffee
Optional Delegate Workshop – Marketing Your Business in Russia; Practicalities and Opportunities
10.00 – 10.05 Welcome from Pinsent Masons
10.05 – 10.10 Welcome Address by Ben Wells – Chair of RUSFOR
10.10 – 10.20 Chair's Opening Remarks and Welcome from the Westminster Russia Forum
10.20 – 10.30 Opening Keynote Address – Speaker TBC
10.30 – 11.30 European – Russia Relations Panel: East-West Multilateral Relations in a Time of Flux
11.30 – 11.45 Coffee & Refreshment Break and Press Briefing Session
11.45 – 12.30 Breaking the Impasse – UK-Russia Bilateral Relations and the Outlook for Improved Bilateral Ties
12.30 – 13.30 Networking Luncheon
13.30 – 14.30 Improving East-West Trade Ties – Assessing the Opportunities & Challenges For UK, European & Russian Businesses
14.30 – 15.30 Promoting Legal Cooperation Between the UK, Europe & the Russian Federation
15.30 – 16.00 Coffee & Networking Break
16.00 – 17.00 Panel Debate – Strengthening Media, Sport, Cultural, Interfaith & Societal Ties
17.00 – 17.10 Closing Keynote – Speaker TBC
17.10 – 17.15 Closing Remarks from the Chair
17.15 – 18.00 Annual Awards Ceremony on Behalf of the Russian National Fund for Social Recognition & The Awarding of the 'Nigel Sussman' Award for UK-Russia SME Activities
18.00 – 20.00 Evening Networking, Drinks Reception & Entertainment with Leading Close-Up Magician -JK Magic
If you would like to speak at the event or work with us, then please do get in touch. Please note – the WRF works with a number of organisations and on an equitable basis (all partnerships subject to approval by the WRF Committee).
Conference Programme: Please note that timings, speakers and content may change. A number of speakers have confirmed their attendance – a full list will be announced shortly.
Delegate & Sponsor Packages: To help cover costs we are charging this year for the conference and will donating £10.00 of each registration to UK & Russian Charities. Delegate & sponsor packages as outlined below:
· Delegate Registration – £60.00 – includes all refreshments, presentations, post event report and one on one matchmaking meetings – have someone, you want to meet? Easy, let us link you up direct! The Delegate fee also includes a one year free membership of the WRF!
· Sponsor Package – £250.00 – includes the delegate package as well all pre-post and on the day branding opportunities and one on one meetings – bring your pull up banners, stands and expo kits and we will help you reach your market!
Location
Pinsent Masons
30 Crown Place
London EC2A 4ES
United Kingdom
Categorised in: Bilder, Business International News, Deutsche Wirtschaftsclubs