Tweet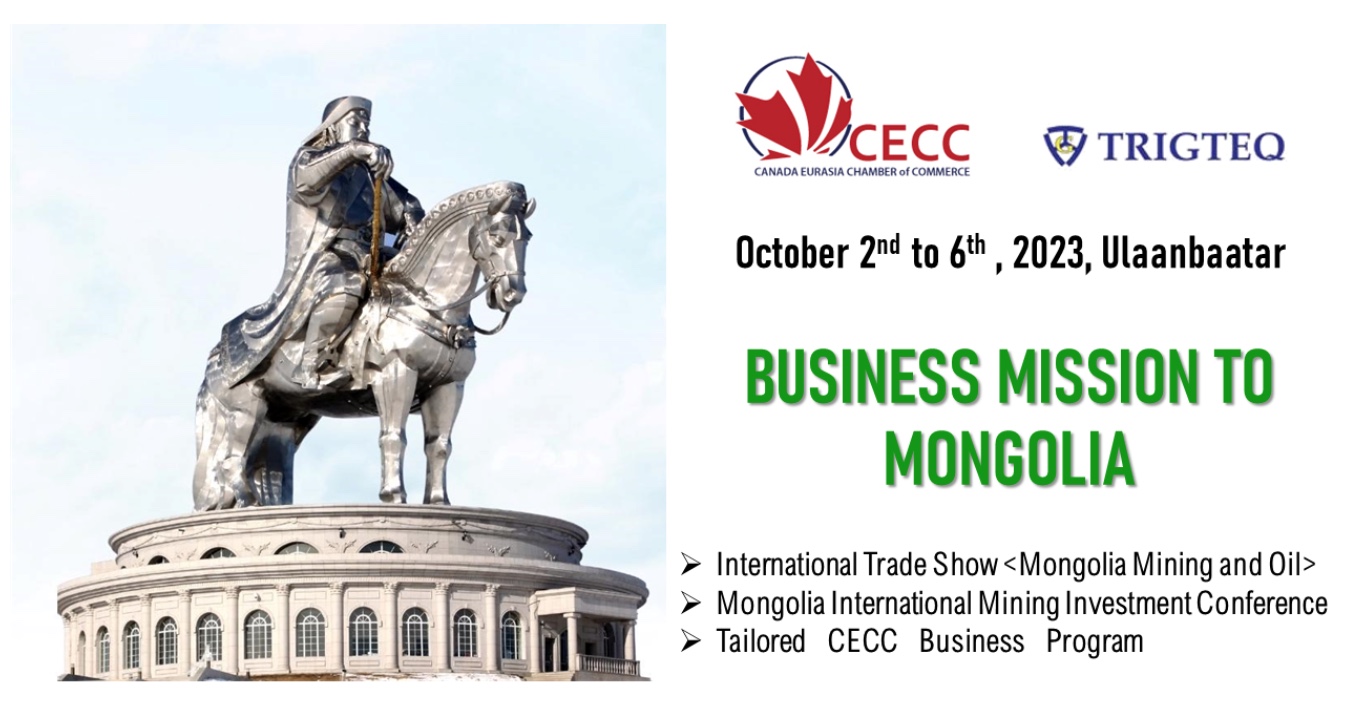 On behalf of Canada-Eurasia Chamber of Commerce (CECC) we invite our members and associates to the Business Mission to Mongolia to attend major international trade show "Mongolia Mining-2023" and CECC business program organized in partnership with our Canadian and Mongolian government and business stakeholders, including: CECC Mongolia partner – TRIGTEQ LLC, Embassy of Mongolia to Canada, Mongolian Government, Business Council of Mongolia, Canadian Trade Commissions service, etc.
WHEN: October 2nd to 6th, 2023
(Business program is taking place from October 2nd to 4th )
WHERE: ULAANBAATAR, Mongolia
CLICK HERE TO REGISTER FOR THE MISSION ONLINE and require terms of participation
The Program of Mission includes:
Guided tours at "Mongolia Mining -2023" trade show and participation at the Forum program events (please, click HERE for the official program)
Display of companies materials at the TRIGTEQ LLC /CECC joint booth
Presentations of Canadian delegates and their interests to Mongolia business community
Tailored individual B2B and B2G programs for each delegate company
Site visits and meetings with top management teams of leading Mongolian Mining companies
Meet the buyers' sessions and Business Networking events
Logistical advisory and assistance on the ground
Special discount rate program for CECC participants
We offer an indirect participation at the Mission for those who are not able to join it in-person. This includes:
Representation of company's marketing materials at TRIGTEQ LLC/CECC trade show booth at Mongolia Mining-2023 trade show
Collecting market feedback and contacts from Mongolian companies interested in cooperation (individual market response forms filled for each potential Mongolian partner)
Presentation of company's information at the official networking events
Establishing direct connections with potential buyers and clients
All collected information will be provided to the participants after the mission along with the follow-up assistance.
Please, connect with us to obtain more details on the materials requirements and costs involved
For questions, registration and terms of participation please, contact:
Tatiana Domilovskaya
(Regional Director, CECC-Vancouver)
tatiana@canadaeurasia.com Tel/WhatsApp/Telegram: +1 604 720 2905
Taranjit Singh Dhillon
(Project Manager, CECC-Vancouver)
taranjit.singh@alumni.ubc.ca Tel/WhatsApp/Telegram: +1 604 618 2729
Categorised in: Uncategorized, Veranstaltungen